February 24, 2011 
Harris At Large!  
INTERNET WOES! 
The situation online is cause for concern as the scam artists are using creative means to get information from internet users that shouldn't be shared. The compelling appeal of the scammers can cause you to submit the information they humbly request if you are not knowledgeable about the various strategies they apply. Whether it is to get your password to your email account/s or to lure you into scams such as to share a large sum of money which you will help to retrieve, your email was drawn in a lottery sponsored by major corporations, etc.. 
The list of scams is mounting everyday as the economic problems take away legitimate opportunities. The unfortunate situation is that many internet scams can be very deceiving as they appear to be real. Even when a product is offered you can be cheated because it is does not represent value for money. 
Almost every type of scam has landed in one of my several inboxes. It is interesting how these promoters can really ignore real opportunities to earn legitimate money and turn to promoting scams. It is worth looking into these scams as legitimate programmes could be developed from them. Many years ago I read a book on turning illegitimate business into legitimate business and that is exactly what is possible in many instances if you redirect the strategies of the scam artists. 
I have discovered that it is necessary to know who the principal promoter of an internet offering is. Many offers are launched without this basic information. In startups I have seen nothing under the about us link. Many times they rush the launch and earlier participants pay the full price while the offer is still being developed. This is unfair. However, there are very few players in today's get rich quick by any means world who apply ethical standards in their businesses. The US Government has been dealing with pyramid scams when detected. I received a total refund on one occasion but I suspect that was at the tail end when the Agency had already moved in on the company's operation. 
Is the internet a safe place? My answer is no, since there are reports of hackers shutting down major sites. In the past, there were all types of viruses which are not as prevalent these days. I cannot over emphasise the point that in using the internet, we must exercise caution. You must be extremely careful with the use of debit cards as there is no recourse to recovering your money if unscrupulous internet marketers defraud you of your hard earned money. This article is not intended to scare my readers but rather to alert them to the silent war that is ongoing in cyber space between honest users, and scammers and hackers.  
If a proposition looks too good to be true, then it is. While getting in on the ground floor is the best way in getting big returns from Multi Level Marketing programmes, it is very risky as many of these programmes fail before being fully established. It is very interesting to see how even the weakest propositions attract substantial following. In recent times, many companies introduce their offerings with a Prelaunch programme where individuals are invited to participate with a promise to be rewarded with persons being placed under them when the programme is launched.  
I have seen programmes which never passed the prelaunch stage as the approach was used to build a massive mailing list. In some instances these scams are even extended if the response is good. In the internet marketing business the money is in the list. Your list provides your customer base and your sales force. There should be list sharing among persons seeking to market their products on a global scale. Joint Venture marketing is one way of getting access to other internet marketers' lists. 
I continue to lament the fact that there is urgent need for drivers to promote the Internet Marketing Industry in Saint Lucia. The political season is once again with us and this is the time to get commitment from the politician vying for office. Get a commitment from your candidate on Innovation and Technology so that the creative minds in our midst can go to work on producing ideas and businesses that will open up new opportunities for investment, learning new skills and employment. 
Something must be done to develop a new mind set whereby our young persons will see new opportunities in areas where they can apply their skills. It is fashionable these days to be on   Facebook, Twitter, Myspace and other social media but we keep to the social aspects and fail to take advantage of the powerful business tool that social media offers. We can enjoy the best of both worlds – pleasure and business. There is a lot of excitement out there and in the process there is money to be made. Unfortunately, there has to be a movement of people of like minds coming together to make our economic circumstances better. There are few opportunities that take one person, the power today is in numbers. Look how well public companies have done over the years. 
On a final note, JACKIE O, an Events & Artistes Support  Management Company was launched at the poolside of H2O Restaurant in the Marina on Wednesday, 2/3/11 with an impressive ceremony which was well covered by the media. Ms. Jackie Cherebin-Weekes is the Managing Executive of the Company. I co hosted the ceremony with Keena C, popular radio personality on Rhythm FM 95.5. 
Remember always to Keep the Faith, God is in Charge, Dream Big and expect Daily Miracles!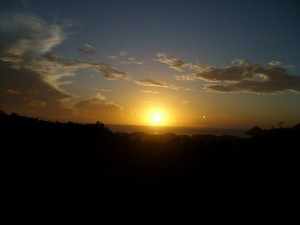 Edward Harris
Biblicist, Freelance Journalist, Author, Realtor, Business & PR Consultant
Email: eaharrisdestiny@gmail.com
Websites: www.stluciapropertydeals.com www.stluciasimplybeautiful.com www.brainstorminggroup.webs.com  www.cariblist.com  St. Lucia – Agent ECREDMC